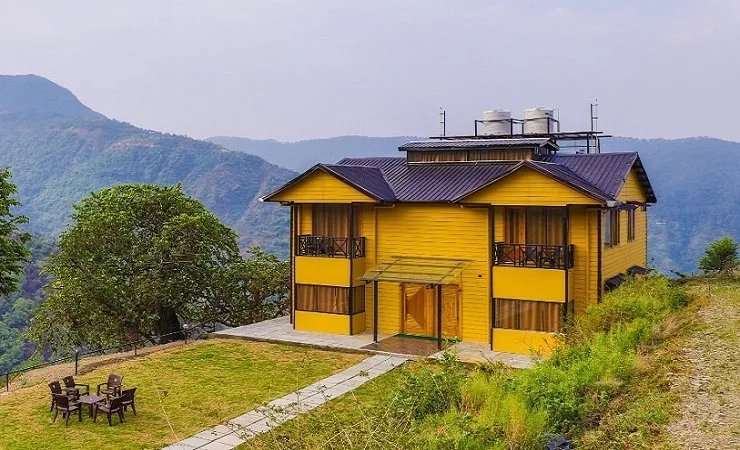 Constructed amidst the lush greenery, Pahadi Kothi is the best resort near Nainital, that you are looking for. Captivated by hills, cool breeze, birds and clouds, this is a dream vacation stop for anyone. You will be blissful while living here.
Pahadi Kothi is open to everyone, be it a family or a couple. We have trained and vaccinated staff. The whole resort is fully sanitized and safe to live in.
Read further to know about the best resort near Nainital.
Know about Pahadi Kothi- Best Resort Near Nainital
Before deciding to stay here, you must first know why we are the best resort near Nainital. What services do we offer and what is the structure of Pahadi Kothi? We are a resort with private parking for 4 vehicles. Know more about us below.
Bedroom –Built with 3 bedrooms, Pahadi Kothi has modern cum comfy rooms. All the rooms are installed with double beds and fluffy bedding. A pretty couch and a small tea table are also provided in the room. The rooms have French windows to give the maximum view of the mountains.
Living room – The living is adorned with a sofa set having a centre table paired with it. The wall has a television and hanging lights are attached. The room is commodious enough to fit a big family. The dining and lounge area are also included within.
Kitchen – You can easily prepare a healthy and hygienic meal for your family as cooking basics and essential electronics are provided. Electronics include a refrigerator, a coffee maker, a stove, an induction, tableware and glasses.
The services offered by the best resort near Nainital are –
A dishwashinghelper
A cook
Vehicle rental services
Pets allowed
Wheelchair accessibility
Wi-Fi
Outdoor furniture
Fire extinguisher and First-aid
Beautiful sightseeing attractions near Nainital
There are ample things to do in Nainital and various sightseeing places to go to. After exploring these fabulous places, you can come back to chill in our best resort near Nainital.
Eco Cave Garden –This is relatively a new sight of attraction but has captured the interest of many tourists. The cave is formed by the interconnection of natural animal caves. You can see various Himalayan wildlife animals there. Apart from the animals, the musical fountain and hanging garden are a plus point for visiting the cave.
Naina Peak –Locally known as Cheena or China Peak, here you get a picturesque view of a beautiful valley and glorious mountains. If you are a photographer or a fan of trekking, then Naina Peak is your place.
Snow View Point –If you wish to see the magnificent Himalayas covered with a blanket of white snow, Snow View Point is the place you should visit. You get the vistas of the whole city. You can reach there through a cable car, that can be taken from the Mallital. This is a serene place and is one of the most visited tourist spots.
Pangot Bird Sanctuary –You can always visit Kilbury Bird Sanctuary to experience a new activity. Bird watching is a mental exercise as it raises different questions and do observations. The sanctuary is stocked with some rare birds as Pangot is home to nearly 500 bird species.
G B Pant High Altitude Zoo –The zoo was established in 1984 but was made publicly open in 1995. Here, you can find a number of animals and birds, including some endangered ones. Spending a day in a zoo can never be boring but super explorative.
Tiffin Top –Being one of the most popular picnic locations, Tiffin Top is situated at Ayarpatta Hill. It simply stuns the visitors with its mesmerizing mountain view. The place is calm and relaxing.
Cafe and Restaurant nearby
Pahadi Kothi is a resort with food near Nainital where you can get meals or even cook by yourself. However, if you want to taste the savouring food of the café or a restaurant nearby, then check the list given below.
Zooby's Kitchen – This family restaurant is quite popular among tourists because of its vibe and the outdoor lake view. It is full of a cosy and warm ambience. They serve different cuisines like North Indian, Chinese, Mughlai and beverages. You can dine in, take away or order the food from Zooby's Kitchen. They are open from 12 pm to 11 pm.
The Pratap's Restaurant Nainital –This Pratap's restaurant which offers delicious and pocket-friendly food. They have Indian, Asian, Fast Food and soups on the menu. Their staff is humble and the café is working from 9 am to 10 pm. Apart from dine-in, they have options of takeaway and delivery too.
Papa's Grill Restaurant – This restaurant has expertise in Chinese, Mughlai and Street Food. They are at the top place in a BBQ restaurant. The meals are mouthwatering and the restaurant is clean. You have the options of dine-in, delivery and takeaway. The working clock runs from 8 am to 10 pm.
Café LakeSide –If you want to enjoy a romantic evening with your partner, then Café Lakeside is the one for you. The breathtaking view of the lake hikes the vibe of the restaurant. This café restaurant offers Indian, Italian, Chinese and Continental cuisines. They have an option for outdoor seating too. You can enjoy their tempting meals from 7 am to 10 pm.
Nanak Restaurant Nainital – If you are looking for a pure vegetarian restaurant, then Nanak restaurant should be your choice. You may eat Indian or Asian food. They also offer a Vegan and Gluten free special diet. The time for dine-in is from 9 am to 11 pm. They don't provide delivery but you can order your food through Zomato.
The Cask Café and Bar–This is a multicuisine café, offering a range of cuisines like Indian, Italian and Chinese. Their menu is packed with several beverages and drinks. The environment of the café is cool and friendly. This café and bar serve from 10 am to 10 pm.
Nainital is a perfect getaway for a weekend and Pahadi Kothi is a cherry on top of a cake. You will be ecstatic during and after living in the best resort near Nainital. We hope to see you soon!