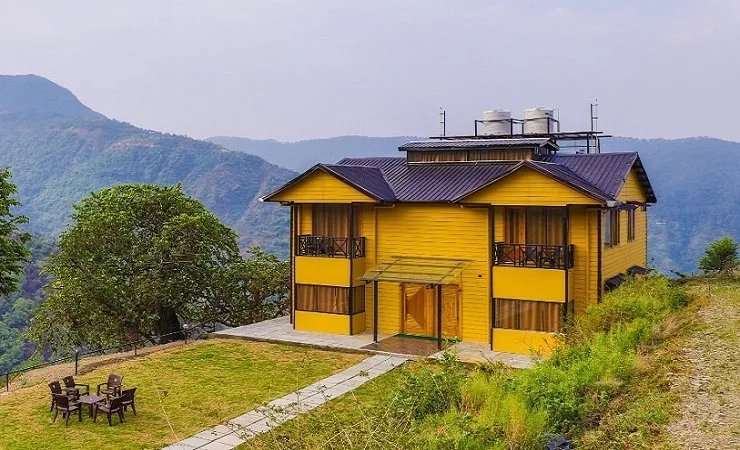 If you want to visit Nainital and are searching for the best villa near Nainital, then your answer is waiting in the next line. Pahadi Kothi is a villa built amidst the lush greenery away from the hustle bustle of the Nainital. Here you will be surrounded by fresh air, slow breeze, chirping of birds and breath-taking landscape.
This is a couple and a family Best villa near Nainital. Here you can stay without age restrictions and with complete ease. Our hospitality is available for everyone and we are proud of it.
Keeping the on-going pandemic situation in mind, all our staff members are fully vaccinated. They are informed and follow all the covid rules. All the rooms in Pahadi Kothi are sanitized and have hand sanitizers there.We have the trained staff members who are well aware of their job and are dedicated to their work.
Know about the best villa near Nainital
Pahadi Kothi is a 5-star villa near Nainital that has and provides only finest of services and amenities to their customers. Our motto is to give a comfortable and a memorable stay to ourdear guests.
Pahadi Kothi is a villa with private parking near Nainital.Check out why weare the best villa near Nainital.
Living room –The living room is commodious and good for a big family. It consists ofthe interior likea sofa set, tea table, T.V and down lights. The area for dining and lounge is also combined in the living room.
Bedroom – There are 3 bedrooms in Pahadi Kothi and all have double bed with comfy bedding. A couch and a small table are also provided for a little chat. The beauty of the nature is even visible through the French window of the room.
Kitchen – The kitchen is installed with cooking basics and all the required electronics such as a refrigerator, an induction, a coffee maker, a stove, tableware and glasses.
Bathroom – Hygiene is a priority and we know it. The bathrooms are clean and out of any foul smell. All the essential toiletries are fresh and ready to use.
Balcony –For you to enjoy the sunset view of mountains, 2 balconies are built in Pahadi Kothi.You can relax with your family while inhaling the fresh air.
The facilities and services provided by us our – Wi-Fi, fire extinguishers, first aid,outdoor furniture, laundry, wheelchair accessibility, vehicle rental and being pet friendly. We have also allotted a cook and a dishwashing helper for our guests in our best villa near Nainital.
Attractions near Nainital
This hill station serves you the number of attractions and outdoor activities to do in the main city and nearby places. You can be an adventurer one day and a devotee next day as Nainital has some or the other thing for everyone.
Get to know about some amazing places to visit near Nainital while enjoying your stay in the best villa near Nainital.
Mukteshwar Temple – Mukteshwar Temple temple is amongst the 18 most important Lord Shiva temples of the country. This holy shrine is around 350 years old and is also home to Lord Vishnu and Lord Brahma.The surrounding of the temple is simply mesmerizing and calming.
Sariyatal – Sariyatal or also called as Saritatal, is emerging as a famous tourist spot because of the serene atmosphere. The lake almost looks as the shape of a heart so, it is popular among the newlyweds. A botanical garden is also located near by,offering variety of flora.
Naina Devi Temple –This is a temple of Goddess Sati, wife of Lord Shiva. It is amongst the auspicious 51 Shaktipeeths in the India. The temple only has eyes to worship because when the Lord Vishnu had cut the burnt body of Goddess Sati, her eyes fell there.
Guano Hills – Who doesn't like to take a nice walk in the fresh and peaceful surrounding? Guano Hills is just perfect for spending some quiet moments, area covered by Oak, Deodar and Bamboo trees. At the hills you can spot some birds and have the overlook of Naini Lake.
Aerial Ropeway – The ropeway runs from Mallital to the top of the hill. You get to appreciate the beautiful Naini lake and lush greenery from the top. The wonderful aerial view will captivate you and keep you in a aww situation. It is a must to-do thing for all the tourists and make the trip a bit more memorable.
Pangot Bird Sanctuary – This place is calling out all the bird watchers and photographers. Being home to approximately 500 birds, here you can witness variety of birds including endangered species. The sanctuary is dense with Rhododendron, Pine and Oak trees.
Visiting Nainital cannot bore you, as something is stored for everyone. From hills to lakes and trekking to temples, there are plenty of things to do. And to upfold your holiday, Pahadi Kothi is patiently waiting for you. Book 3 BHK best villa near Nainital and experience a stay like never before.
Frequently Asked Questions