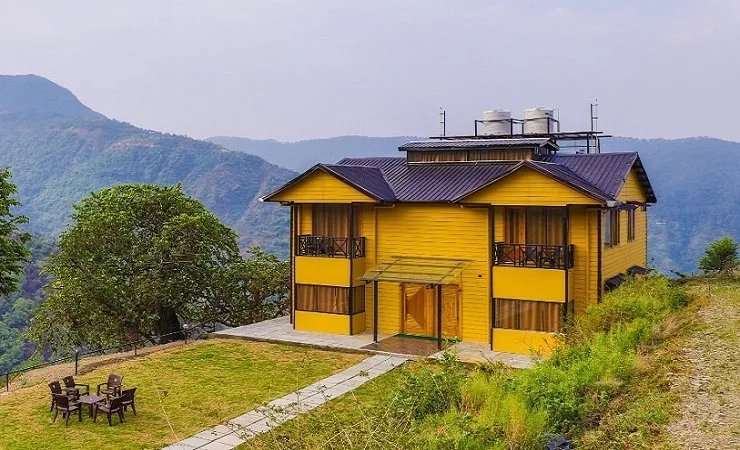 Let us introduce Pahadi Kothi, the best cottage near Nainital. Constructed in the surroundings of mother nature, you will get complete privacy with your family or partner. The only things around the cottage are glorious mountains, cotton-like clouds, cute bird chirpings and serenity.
We are a couple and a family cottage near Nainital. There is no age restriction for staying in the best cottage near Nainital. We believe in our country's saying – "Atithi Devo Bhava".
Considering the pandemic situation, we have trained and vaccinated staff. The staff is aware and all the rooms are sanitized plus installed with hand sanitisers. No stone is unturned in serving you the finest of quality, that's why we are the best cottage near Nainital.
Why choose Pahadi Kothi as Best Cottage Near Nainital
For spending a perfect vacation, emotions are more invested than money and time. And a bad vacation will leave sour feelings forever. We get out of comfort to bring you comfort. Know the structure of the best cottage near Nainital and the facilities provided by us below.
Bedroom – The aura of the room is homely. Double beds and comfy bedding are provided in all the 3 bedrooms. A two-seater couch and a small table are also kept in the room, just in front of the French window. Enjoy the landscape from the comfort of your bed.
Living room – Upon entering the living room you will feel the elegance and warmth of the whole cottage. The room shines in golden lights and includes a sofa and a table set. The room is spacious enough as a lounge and a dining area are attached within the room.
Kitchen – For all the homemade food lovers, this kitchen is ready to use. Equipped with cooking basics and electronics such as a coffee maker, a refrigerator, an induction, a stove, glasses and tableware.
Balcony – Balconies are a must to enjoy fresh air and view, especially in the early morning. So, Pahadi Kothi has built 2 balconies, where you can enjoy the cool mornings with your family.
Facilities you get at this rooftop cottage in Pangot are –
Wi-Fi – You get a free Wi-Fi connection during your stay in Pahadi Kothi.
Helpers – We allot a dishwashing helper and a cook for your convenient stay with us.
Parking – We are a cottage with private parking for 4 vehicles, at no additional price.
Safety – Your safety is our priority. Fire extinguishers and first aid are available 24×7 in the cottage.
Wellness – This best cottage near Nainital is fully sanitized. All the rooms have hand sanitisers too.
Pet Friendly – We are pet friendly. So, pets are allowed in our cottage.
Outdoor Furniture – Wooden furniture is provided outside the cottage, so you could enjoy a happy tea time.
Vehicle rental – We have vehicle rental services for our guests.
Sunset view attractions near Nainital
We know that you will love staying in the luxury cottage near Nainital but seeing the beauty of nature is a must to do a thing. Especially the sunrise and sunset points that are simply amazing.
Land's End – This may be the end of the land, but it is the start of mother nature. Wherever you look only valleys and mountains are visible. This makes it perfect for a sunset view, with no interruption while admiring nature.
Tiffin Top – Located at Ayarpatta Hill and 2290 meters above sea level, Tiffin Top is also known as Dorothy's Peak. The hill is packed with people enjoying a picnic with their families. You eat, chat, laugh and see the gorgeous sunset view there.
Snow View Point – This is a popular spot that attracts several tourists. Here, you get the spell-bounded view of the gigantic Himalayas dressed in snow. After enjoying the view of hills and lakes, wait for the sunset, and witness a beautiful scene before your eyes.
Naina Peak – This is one of the famous attractions near Nainital, where you get the overlook of the valley and the main city. Stay till the evening and witness the orange picture of sunset, which will leave you at a loss for words.
Hanuman Garhi – Situated at the height of 1951 meters, the temple is surrounded by abundant greenery and mountains. After absorbing the calmness of the temple, wait for the evening. Hanuman Garhi gives you one of the most picturesque views of the sunset, no questions asked.
Naini Lake – This lake is one of the most recognisable places in Nainital, where you can enjoy a boat ride. But do you know it also has beautiful sunset scenery? Encounter the painting like a sunset with your family.
Places to visit near Nainital for Camping
Camping is a combination activity comprising both, adventure and nature. You will admire the beauty of nature while living in a tent. It will bring a new experience to you, which can not be erased.
HimView Camp – This campsite is built amidst the Himalayas, Bhalugaad Waterfall, Fruit Orchids and greenery in Mukteshwar. It is amongst the best camping sites in Nainital. From all the tents you get a mesmerizing view of the Himalayas.
Hidden Valley Adventure Camp – Located near the jungle of Pangot, Hidden Valley Camp provides Swiss tents with a connected washroom and Alpine tents with comfortable bedding. You will surely enjoy this camping in Pangot with your family, surrounded by trees.
Ayar Jungle Camp – This camp is constructed in the area surrounded by the greenery of Pine trees. Your route to the Ayar Jungle camp is easy because they have a shuttle service to pick you up from Nainital.
Whistling Woods Camp – If you are looking for a couple of friendly campsites, then you can come here. You get a little room-type camp, which has a pleasing Nainital view.
Getting off to a hill station won't harm the routine life. If you want to make your vacation blissful and memorable, you must book a cottage near Nainital whose name is Pahadi Kothi. Contact us now or you will have to listen, 'sorry, no bookings available.