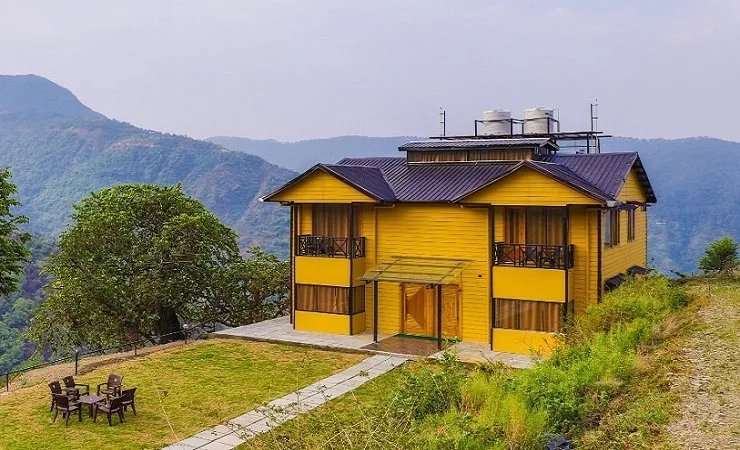 Searching for the best hotel in Nainital can be tiresome as it is one of the most favourable hill station destinations. Not only Indians but foreigners too get enticed by the beauty and mesmerizing scenic view of this hill station. According to the Tourist Statistics of the Year 2021, Nainital attracted 3,26,259 tourists amongst which 633 were foreigners. But your hunt for the best hotel in Nainital will come to an end soon if you read further.
In this article, we will reveal the best hotel in Nainital for your pleasant and blissful vacation. Be it families or couples, below you will find the hotels according to different preferences. So, carry on reading!
Best Hotel In Nainital Mall Road
If you are looking for the best hotel in Nainital on mall road, then you can consider the following hotels. They all are near various tourist attractions and are pocket-friendly too. While staying in these hotels, you can enjoy shopping and street food within a walking distance. They all excel in customer service and provide different amenities.
● Hotel Shivraj – Even from the window of your room, you can enjoy the serene view of Naini lake as this hotel has a lake view. The Naina Devi Temple is just 1km away. They have spacious deluxe rooms which provide amenities like Wi-Fi, electric kettle, T.V, radio, AC, heater, work desk and chair.
● Hotel Himalaya – Once a host to Indian Royalty, this hotel gives some premium advantages like mini golf and badminton area within the premises. There are four types of rooms with classy decor to match your criteria. Some of the services offered by them are car hire, game room, BBQ facilities, outdoor fireplace and parking.
● India Hotel – Savour the picturesque view of the lake and mountain from any part of the hotel. They offer four types of rooms with the choice between two views. They take pride in delivering amenities such as boating, hiking, a kids area, a restaurant, walking tours and being a non-smoking hotel.
● Lakeside Inn – As the name suggests, this boutique hotel gives an aesthetic lake view which is perfect for a relaxing vacation. Situated on the mall road, it is near all tourist attractions. They provide facilities like Wi-Fi, a cafe, restaurant, parking, a travel desk, tea and coffee maker.
Best Hotel In Nainital Near Naini Lake
Who doesn't want to enjoy the beautiful Naini lake view from their hotel room window? It is a sight for sore eyes. Check the list below to know the best hotel in Nainital near Naini lake.
● Hotel Channi Raja – See the striking view of the Himalayas and stunning lake first thing in the morning. They have a decor of woods and fine furniture to make the rooms luxurious. Their rooms are classified as double bedded rooms and family suites. Services to focus on are lounge bar, parking, laundry, Wi-Fi and room heating facilities.
● Foxoso Hotel Mall Road – The hotel has a homely atmosphere blended with stylish rooms. They offer five types of rooms to cater different needs of their customers. Services provided by them are Wi-Fi, restaurant, parking, laundry, electric kettle and tea/ coffee maker.
● Hotel Happy Home – The hotel is built amidst the lush green mountain and near the lake. They have classified rooms into four types. To enjoy the delicious food you can go to their multi-cuisine in-house restaurant. Other amazing services they provide are a bar, travel desk, sightseeing, Wi-Fi and an electric kettle.
● Hotel Kurmanchal – This reasonably priced hotel is situated near Naini lake, to give the overlook of the lake. They have categorised rooms into three types and all give a homely feeling with a finely furnished interior. Amenities to look out for are bonfire, on-site caretaker, vehicle rentals, outdoor sitting area and Wi-Fi.
Best Hotel In Nainital For Families
Everyone wants to have a relaxing family vacation away from the hustle and bustle of the city, so what can be a better destination than Nainital? But finding a hotel that is easy on your budget is questionable. To know the cheap and best hotel in Nainital see the hotel mentioned.
●   Sterling Nainital – While sipping a mug of coffee in your room, enjoy the exquisite beauty of nature. They provide a stunning view, modern rooms and a multi-cuisine restaurant. Few amenities to look out for are free breakfast, workout room, game room, kids area, table tennis, spa and vehicle facilities.
● Vikram Vintage Inn – A family-friendly hotel for a pleasant and happy holiday. They have an elegant and stylish interior and the types of rooms they provide are suites, family rooms and non-smoking. Few happy services given by them are free breakfast, fitness centre, game room, kids area, car hire and free taxi service.
● The Pavilion – A place built as a tea parlour in 1880, now serves as one of the best hotels in Nainital for families. Surrounded by the beauty of the mountain, it delivers the finest services such as a breakfast buffet, private balcony, parking, activity area, laundry and dry cleaning services. You can choose the room as per your preference between three options.
● Green Roof Hotel – This hotel has a mesmerizing scenic view of nature and greenery. Amenities offered by them are a private balcony, restaurant, parking, car hire, breakfast, fireplace, BBQ and outdoor dining area. Other than these they even allow pets entry.
Best Hotel in Nainital For Couples
This hill station is pretty much famous amongst the youngsters and newlyweds who want to spend some alone time. They can get their bond to grow more by the side of the lake and amidst the lushes of the mountain. To know the best hotel in Nainital for Honeymoon, see the hotels listed below.
The Naini Retreat by Leisure Hotels – This hotel serves a classy and romantic vibe, with an aesthetic view of the mountain. To make your stay more memorable they offer some unique services like bar/ lounge, parking, game room/ activity area, car/ taxi facilities, concierge, spa and massage. It may be high on the budget but serves the best to its customers.
Hotel Krishna – The hotel is located in the centre, having all the tourist attractions within a walking distance. Services delivered by them are parking, Wi-Fi, breakfast in the room, housekeeping, laundry and ironing facilities.
Shervani Hilltop – Enjoy the lush green view of the mountain and restore your peace. The hotel is decorated with beautiful wooden flooring and fine furniture. Their highlighted services are indoor and outdoor activities, concierge, courtyard bar, live barbeque, travel desk and mini bar in suite/ hill view rooms. It is not very pocket-friendly but has top-most hospitality.
Cygnett Resort Mountain Breeze – Enjoy a romantic trip in the lap of nature, as this hotel is surrounded by greenery and breathtaking view. Some of the highlights of their services are pool, bicycle rental, gym, game room, tours, BBQ, fireplace, table tennis, steam room, spa and massage facilities. This undoubtedly is one of the Best Hotel in Nainital for Honeymoon.
If you are a nature lover or a person who loves adventure, Nainital is your destination. With outdoor activities such as boating, hiking or even visiting the Naina Devi Temple, one can never get bored at that place. By reading this far, your dilemma of choosing the best hotel in Nainital would surely have come to an end. So, hurry up and seal your bookings before it's closed.
Frequently Asked Questions