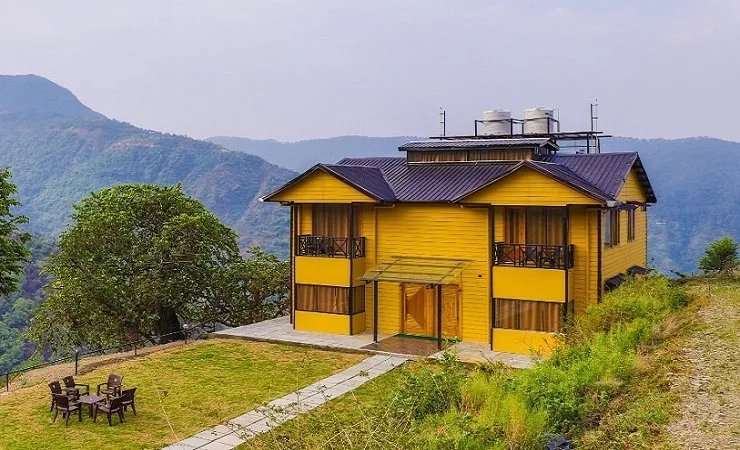 If you are searching for the best farmhouse in Pangot, then stop your search right here as you have found us. Imagine, waking up to the view of mountains which are accompanied by clouds and no noise but birds chirping. The thought itself is delightful and Pahadi Kothi gives you this same experience. We have nothing but the lush greenery around us.
Pahadi Kothi is a family and couple-friendly farmhouse where you can enjoy it to the fullest. There are no age bars or restrictions on anyone's entry. For the friends who are holidaying together, you can turn Pahadi Kothi into a party farmhouse in Pangot.
Our whole staff is trained on hygiene/ cleanliness and follows all the covid protocols strictly without any negligence. You will have a safe and happy vacation in the best farmhouse in Pangot.
Why Pahadi Kothi is the Best Farmhouse in Pangot?
Pahadi Kothi is not the only place to stay but it surely is the best farmhouse to stay in Pangot. We know that privacy is important and any disturbance can break the tendency of the moment. So, it is built in seclusion away from the other hotels, amidst the hills.
Read further to know why our 3 BHK farmhouse near Nainital should be your first renting option in Pangot.
Living room – The common room which consists of the lounge and dining area, is decorated with a sofa set which is paired with a glass centre table. The hanging lights will create a great vibe to enjoy a movie night on the LED fitted to the wall.
Bedroom – Pahadi Kothi has 3 bedrooms so, if you have planned a joint family vacation then you can stay here comfortably. Along with the bed – which has soft bedding – the room has a couch and a table. You can enjoy the beautiful landscape from the French window.
Kitchen – The kitchen is spacious and is installed with the necessary electronics to prepare a delicious meal. It includes cooking essentials, a coffee maker, an induction, a refrigerator, tableware, glasses and a stove.
Balconies – This farmhouse has 2 balconies for you to chill in the evening with your family or partner. You can enjoy the amazing scenery and have a sweet moment with your spouse.
Private parking – Finding a farmhouse with parking can be slightly tough but with Pahadi Kothi you don't need to worry. We have a private parking space for 4 vehicles at absolutely zero cost.
Helpers – Nobody wants to do household chores on a vacation and for this, we are here to rescue you. We provide a cook and a dishwashing helper, who will be available from 8 am to 10 pm at your service.
Pet friendly – Most hotels or farmhouse does not allow pet entry. But at Pahadi Kothi you won't face this issue as we are a pet-friendly homestay.
Safety measures – Fire extinguishers and first aid are available 24×7 in the farmhouse, in case of any mishap.
Health and hygiene – We are strict with our rules and covid protocols. Our staff is fully vaccinated. All the rooms are sanitized and have a hand sanitiser.
Other facilities – Some other services like vehicle rentals, Wi-Fi and outdoor furniture are also available here.
Okay, so you came here and book a farmhouse in Pangot but what next? If you are curious to know what to do in Pangot, then you should check the below pointers. There are many activities to do and places to visit in Pangot.
Camping in Pangot is a very refreshing idea. You can set a tent, do barbeque and engross in a heart-to-heart talk. Your time spent camping will result in a stronger bond.
Enjoy mountain biking and trekking. A path surrounded by glorious trees and greenery. Push your limits and follow this adventurous activity.
Grab your camera and enjoy a day spotting exotic birds in the Pangot bird sanctuary. Being home to approximately 500 birds, you can find various species of birds in Pangot.
Tourist spots near Pangot
While having a luxury homestay in Pangot, you can visit many nearby hill stations without any hassle. There are a few attractions near Pangot that you can reach in less than an hour.
Nainital – Being at a distance of just 15 km, you can explore Nainital and come back to your farmhouse in a day. You can enjoy romantic boating in Naini Lake or visit Naina Devi Temple. If you want to do street shopping then Mall Road is for you.
Bhimtal – Bhimtal is a popular tourist place that is 45-60 minutes of drive away. Its name originated from the epic Hindu mythology "Mahabharat". A small-scale island is also located in the lake.
Snow view point – If you want to witness a wonderful view of the Himalayan mountains clad in the snow then you cannot afford to miss this place. Where ever you look, only picturesque landscapes will be visible. This is a must-visit place for scenery lovers.
Sat Tal – Sat Tal is a lake that is formed by 7 freshwater interconnected lakes. The names of the lake are – Ram Tal, Sita Tal, Laxman Tal, Sukh Tal, Garud Tal, Nal Damyanti Tal and Purna Tal. The lake has the boundary of enormous oak and pine trees.
Guano hills – If you love to talk in peaceful surroundings, where a gentle breeze is flowing and little birds are chirping, Guano hills should be your go-to place. The presence of bamboo, deodar and oak trees enhances the beauty of the place.
Spending a few days in Pangot and living in the luxury farmhouse in Pangot will change your lethargic self into an energetic one. After this trip, you will feel refreshed and alive, and ready to continue your hectic life. So, stop delaying your trip and book the best farmhouse in Pangot now. We are eager to show you our hospitality.