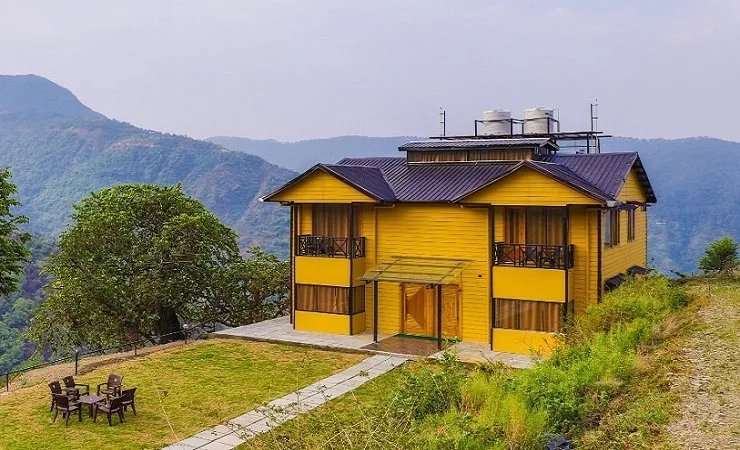 Welcome to the best farmhouse near Nainital– Pahadi Kothi. Settled amidst nature and away from the noisy city, here you will spend one of the most exquisite vacations of your life. While staying in the best farmhouse near Nainital, you will be accompanied by birds, hills, fresh air and cute moments.
Doors of Pahadi Kothi are open to everyone, be they family or a couple. Our trained and vaccinated staff serves you with the best hospitality. You will stay in comfort and feel like a celebrity. This farmhouse is just a perfect holiday rental.
Pahadi Kothi – The best farmhouse near Nainital
Live in quietness or turn Pahadi Kothi into a party farmhouse near Nainital, it caters to you. The Pahadi Kothi is a home away from your home. Know more about this farmhouse near Nainital below.
Living room – The hall is decorated with a comfortable sofa paired with a centre table, a LED on the wall, golden hanging lights and a large window to enjoy the mountains' view. The room is quite spacious as it includes dining and a lounge area with it.
Bedroom – There are 3 bedrooms in this best farmhouse near Nainital which consists of double beds and fluffy mattresses. Additionally, a couch and a tea table are also provided, on which you can enjoy the picturesque hills through the French window.
Kitchen – The kitchen is installed with all the utilities namely, cooking basics, a stove, a refrigerator, an induction, a coffee maker, tableware and glasses. It is ready to make a meal.
Bathroom – There are 3 bathrooms in Pahadi Kothi, and equipped with the required toiletries. The washrooms are clean and fragrance full.
The best farmhouse near Nainital offers facilities such as-
A cook
A dishwashing helper
First aid and fire extinguisher
Outdoor furniture
Vehicle rentals
Wi-Fi
Private parking
Pets allowed
Popular hills for adventurous trekking
Holidaying in Nainital and not trekking is a bizarre statement. It definitely should be in your list of 'things to do in Nainital' or else your vacation would be incomplete. Below you will find all the famous places to visit near Nainital, for gutsy trekking.
Tiffin Top – Also called Dorothy's Peak, if you are a beginner trekker, then this is an apt trail for you. 4 km long path, you can enjoy an easy trek amidst the lush greenery. If trekking to Tiffin Top is a bit tough for you, you can always opt for a horse ride.
Snow View Point – A popular spot for tourists, Snow View Point serves you a 3 km long hiking trail. You enjoy amazing trekking with the mesmerizing view of enormous mountains. The snow viewpoint is one of the most gorgeous attractions near Nainital, which you should not miss.
Land's End – As the name suggests, Land's End is where land gets over and nothingness starts. Here you will witness the mountains, clouds and valleys without any interruption in the view as it is a cliff. You can enjoy easy hiking of 4 km here.
Guano Hills – Guano hills is the perfect combination place for trekkers and bird watchers. After completing your adventuresome hiking that is covered with healthy Bamboo, Deodar and Oak trees, you can relax while watching the birds.
Naina Peak-Pangot Trek – 14 km of trekking path, Naina Peak-Pangot Trek offers you a sporting 2 days trekking experience. The path starts from the Mallital and passes through Snow view hill to finally reach the destination, Naina Peak. After resting the night at the mountain village in Pangot, continue your trek back to Nainital.
Kunjkharak Trek – This is not your regular trekking trail on a hill but is in a jungle, which is hard to find in the northern region of the country. The path is 36 km long and encircled by the dense Oak, Deodar and Rhododendron trees. Kunjkharak trek will surely leave a unique trekking experience for you.
Lakes to visit for a euphoric evening
Nainital is known as the 'Lake District. Stay in this luxury farmhouse near Nainital and visit pretty little lakes to upgrade the quality of your vacation.
Bhimtal Lake – At a distance of 22 km away from Nainital, Bhimtal Lake is an enchanting and famous lake. Being one of the largest lakes in Nainital, many tourists come there to enjoy boating. The lake got its name after 'Bhima' the epic character of Mahabharat.
Naukuchiatal Lake – This lake is the deepest lake in the Nainital region. You will be awestruck after seeing the beauty of this place in person. The mighty Himalayas, clear lake and rare birds make this lake a complete package. You can do various activities on the lake like yachting, boating, paddling and parasailing.
Sat Tal Lake – This lake is formed by a cluster of 7 freshwater interconnected lakes. Sat Tal Lake is a popular lake for bird watching, as migratory birds come here throughout the year. The lake is surrounded by dense forest and calmness.
Khurpa Tal Lake – Having a boundary of glorious Pine, Cedar and Deodar trees, Khurpa Tal Lake is like a hidden gem in Nainital. Elevated 1600 meters above sea level, the lake serves breathtaking scenery. You can experience the activities such as fishing and boating.
Sariyatal – This lake is popular among tourists and locals, especially the newlyweds because of its near heart shape resemblance. You can enjoy boating or yachting in this emerald green lake. The magnificent Himalayas adds up to the beautiful location.
Kamal Tal Lake – Also known as the 'lake of lotuses', Kamal Tal Lake is located near Naukuchiatal Lake. It is one of the pleasing lakes, attracting tourists because of the appealing lotuses on the surface. You can also spot some fish in the lake.
If you are a nature plus adventure lover, then Nainital is your place. And if you love a luxury homestay near Nainital, then Pahadi Kothi is for you. Enjoy a short trip to the hills station with your family and book a farmhouse near Nainital now!