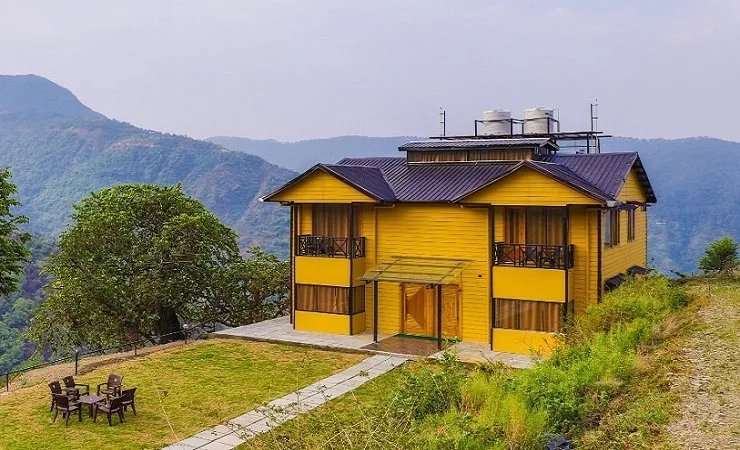 Search for the best cottage in Pangot and see that Pahadi Kothi is the only answer. A beautiful cottage which has nothing but mountains and greenery around it. The clouds look soo pretty and down that, it feels like you are living in the clouds. Holidaying inhere will leave you with the best memories.
If you are thinking about who can stay in this cottage then ignore that query because we welcome everyone here. Pahadi Kothi is a couple and family cottage in Pangot, isolated from the unwanted hustle and bustle of the city. Here, you can relax and chill with ease.
We have a well-trained staff with us on whom you can rely. They know what they are doing and are the best in their work. They all are vaccinated and follow covid protocols. You won't find any con or false bait while staying here, as we offer what we claim.
You may think why choose Pahadi Kothi? What makes it the best cottage in Pangot? What different services do they provide from other homestays? And you are right with your questions because a vacation is not an everyday thing. But our way of hospitality and the aura that our cottage oozes are something we are proud of. This is a 3 BHK cottage in Pangot with the finest services and amenities. Get to know why this is the best cottage in Pangot.
Bedroom – Pahadi Kothi offers you 3 bedrooms with clean and comfy bedding. The rooms include a double bed, a couch and a table. A French window is designed just in front of the bed, so you could wake up to the beautiful landscape of the Himalayan mountains.
Living room – The living room is spacious and is decorated with a sofa set, glass table and T.V. You can use dim lights to uphold the room. The dining and lounge area is also included in the living room so, you can be settled comfortably there.
Kitchen – For the kitchen, you don't need to worry as it has all the necessary things. It has an induction, a stove, a refrigerator, tableware, glasses, a coffee maker and the cooking basics for you to prepare a meal.
Bathroom – The bathrooms are clean and tidy, with all the required toiletries available. Even a speck of dust won't be visible.
Balconies – 2 balconies are built in the cottage to give you a mesmerizing hill view. In the morning, afternoon or evening, whenever you will have a cup of tea, only the clouds and hills will be seen. It offers a great view to enjoy some quality time.
Some other facilities that you will get at Pahadi Kothi are-
Free private parking for 4 vehicles
A dishwashing helper and a cook
Clean and sanitized rooms
Laundry services
Outdoor furniture
Wi-Fi connection
24×7 fire extinguisher and first aid
Vehicle rental services
Pet friendly
Wheelchair accessibility
Places to visit in Pangot
There are many hill stations to visit near this small village if book the best cottage in Pangot. You can easily up down in a day by renting a vehicle. Refresh yourself by visiting these peaceful places.
Nainital
Everyone already knows that Nainital is a famous hill station, where the crowd never subside. The distance between Pangot and Nainital is just 15 km. You can easily book a taxi to reach there and visit places like Naina Devi Temple, and Naini lake and do shopping on Mall Road.
Bhimtal
Being among the popular attractions near Pangot, Bhimtal is a calm place that is surrounded by glorious pine and oak trees. It has a small island in the middle. This place even has a connection with the epic Hindu mythology – Mahabharat – as the name is derived from the powerful character 'Bhima'.
Guano hills
All nature lovers hurry up and get ready because Guano hills are calling you for a leisure walk. The time spends amidst the splendiferous bamboo, deodar and oak trees is simply beautiful. Don't forget to grab your camera, in case you spot some rare birds.
Snow view point
Having a small temple situated nearby, Snow view point is the place as described by the name. The exotic view of the Himalayas covered with snow is the only thing visible. The place is filled with calmness and serenity to boost your positive energy.
Sat Tal
The cluster of 7 interconnected freshwater lakes has given birth to 'Sat Tal'. The name of the lakes are – Ram Tal, Sita Tal, Laxman Tal, Sukh Tal, Nal Damyanti Tal, Garud Tal and Purna Tal. It is very relaxing and chilling to do boating there, encircled by a dense forest.
While staying in the luxury cottage near Nainital, many things can pick your interest. Whoever you came here with, be it your family, friends or solo, the below-mentioned activities can be enjoyed by everyone.
Mountain biking and trekking – Calling out all the adventure lovers to trek in the lush greenery. For biking and trekking in Pangot, there are two paths leading to different destinations. One ends at Naina Peak and the other reach Corbett National Park.
Bird watching – Bird watching may sound boring but finding and observing birds is a one-of-a-kind activity. There are approximately 500 birds in Pangot. You can visit the Pangot bird sanctuary to explore the different types of birds and capture them with your camera.
Camping in Pangot – Camping is an exciting activity where everyone cooks, sings, talks and laughs together. Setting a tent and working from the scratch like in ancient times is a very unique idea. You won't even realize when the night gets over, sitting and chatting by the side of a bonfire.
After visiting Pangot and staying in Pahadi Kothi- The Best Cottage in Pangot, you will understand how amazing this hidden destination is. Once you live in Pahadi Kothi, there is no way you did want to rent any other homestay for your next vacation. Hurry up and plan your trip soon, we are waiting!
For Booking, Please Click Here.