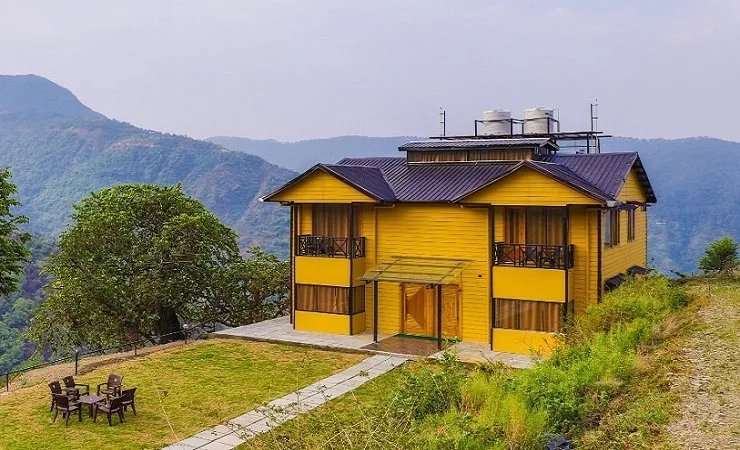 Escaping from routine life to hill stations is good but holidaying in Pahadi Kothi – the best villa in Pangot is even better. Staying amidst the lush greenery and encountering spell bounded views of mother nature, gets the level of relaxation at its peak. The calm breeze and the gentle chirping of birds make the surroundings tranquil.
We love to host families and couples with our finest hospitality. If you are here with your friends, you can enjoy a musical party villa in Pangot. We believe that our hosting will touch your heart and help make a memorable vacation.
Our Services and Amenities
Pahadi Kothi understands that when on vacation, comfort and relaxation are the supreme criteria that you look out for. Any compromise in your luxurious stay is a BIG NO!! And we give more than the best to our dear customers. Your time in our 5 star villa in Pangot will be a dream vacation.
The villa is a combination of elegance and warmth. This 3 BHK villa screams a good holiday vibe'. Check out what awesome services and amenities we offer.
Living room – The living room has an interior sofa set paired with a centre table and a LED T.V fitted to the wall. The downlights unfold the beauty of the living room. It also includes an area for dining and a lounge.
3 Bedrooms Villa in Pangot– The bedroom has a double bed and is decorated with golden lamps and down lights. The bed has a fluffy mattress and pillows so that you can relax after a tiring day. The room also consists of a French window to you give a marvellous view of the Himalayas.
Kitchen – The kitchen is ready to use, and equipped with all the essential things. It includes cooking basics, a refrigerator, an induction, a stove, a coffee maker, glasses and tableware.
2 Balconies – For you to enjoy the beauty of nature, 2 balconies are given. An evening while chilling with family is one of the most precious moments a person can have.
Other highlighted services of Pahadi Kothi are free private parking, a dishwashing helper, a cook, a pet-friendly villa, sanitized rooms, hand sanitisers, Wi-Fi, outdoor furniture and vehicle renting services.
Attractions Near Pangot- Best Villa in Pangot
Looking for places to visit near Pangot is not problematic as this small yet pleasing village is in close proximity to many hill stations.With every new place, you will be infused with a unique and different experience. You can have a holiday villa in Pangot and visit places such as:-
Guano hills – Surrounded by strong Bamboo, thick oak and deodar trees, Guano hills is an apt place for a little chit-chat, a walk or even meditation. The sight of various birds and their chirping is a bonus in calming your mind.
Bhimtal – Bhimtal is named after Bhima, a powerful character in Hindu mythology "Mahabharat". It is a famous attraction for tourists, which is around 45-60 minutes of drive away from Pangot. A small island is also situated in the middle of the lake.
Nainital – At the distance of just 15 km drive away from Pangot, Nainital attracts several of tourists and is amongst the most preferable hill stations. The popular places to visit there are Naini Lake, Naina Devi Temple and street shopping on Mall Road.
Sat Tal – Formed by a cluster of 7 fresh lakes, Sat Tal is 24 km away from Pangot. The 7 lakes namely are – Ram Tal, Sita Tal, Laxman Tal, Nal Damyanti Tal, Garud Tal, Purna Tal and Sukh Tal. The area is engulfed by beautiful pine and oak trees.
Snow view point – 2,270 meters above sea level, this place is simply filled with astonishing views of the Himalayas, capped in white snow. Once you visit this place there is no way you did want to leave early. It is a must-visit place for everyone, especially for photographers.
While you may think that Pangot is a miniature town in Uttarakhand with not much to see there, the reality is slightly different. A nature lover or an adventurer by heart, while living in our villa in Pangot, nothing will disappoint anyone.
Kilbury Bird Sanctuary – Spending a few hours in the Pangot bird sanctuary is never a bad idea. You can enjoy your time sighting different birds as Pangot is home to approximately 500 birds. So, going to the sanctuary will be a day spent well.
Camping in Pangot – Everyone wants to experience camping once in life so, what better than doing it in Pangot? The area is surrounded by lush greenery and mountains. Even a cup of tea will feel like a feast if settled beside a bonfire.
Mountain biking and trekking – Pangot offers you two paths for trekking. One trekking path has Naina Peak as its destination and another one leads to Corbett National Park. You can have an amazing mountain biking and trekking experience with your family and friends.
If you want to see Nainital but stay out and book a villa near Nainital, then Pahadi Kothi has to be your only option. A short vacation to Pangot is a serotonin booster. Here, you will enjoy it to the fullest and would like to come again. So, hurry up and book the best villa in Pangot now.
Frequently Asked Questions - Best Villa in Pangot | Pahadi Kothi