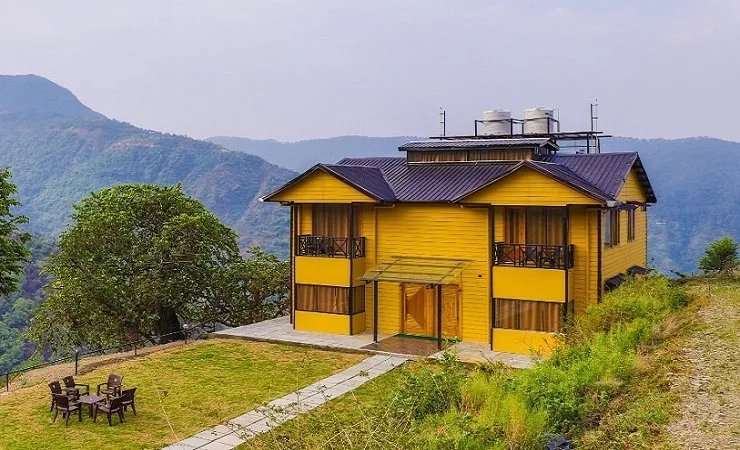 If somehow you have stumbled upon this article, it means that you are in search of a hotel and Pahadi Kothi is the best hotel in Pangot. From the elegant look and the domestic feeling to the mesmerizing outdoor view, our hotel excels in everything. You say your preference and we are ready to act on it.
Our hotel is for everyone and anyone. If you have planned a family trip or want to have a couple of vacations, our hotel is eager to serve you. You don't have to face any age limit or restriction the stay in the best hotel in Pangot.
By us saying that Pahadi Kothi is the best hotel in Pangot doesn't make it the best. You need to know our features and hospitality to believe our words.
Pahadi Kothi offers you:
3 bedrooms with wooden finishing and golden coloured hanging lights. The room has soft mattresses and pillows to provide you with a good night's sleep.
The living room includes dining and a lounge area. There is a T.V attached to the wall and a pair of sofa sets.
The kitchen is well equipped with all the necessary things like cooking basics, a refrigerator, a stove, a coffee maker, an induction, tableware and glasses.
3 bathrooms are clean and hygienic to use. All the required toiletries and essentials are kept.
2 private balconies are available so that you can enjoy the splendid view of the Himalayas.
Other amenities provided are Wi-Fi, fully sanitized rooms, hand sanitisers in a common area, outdoor furniture, free private parking for 4 vehicles, a cook, a dishwashing helper, vehicle rental service and lastly, it is a pet-friendly hotel.
Places to visit near Pangot
There are many group activities to be done in Pangot and attractions near Pangot. Pahadi Kothi is a hotel near Nainital and other famous tourist spots. One can never get bored if you book a hotel in Pangot.
Nainital – It is around 15 km away from Pangot. So, it does not cause any hassle for travelling between these two places. Naini Lake, Naina Devi Mandir and Mall Road are the centres of attraction for tourists.
Sat Tal – A lake formed by the interconnection of 7 different lakes, Sat Tal is 24 km away from Pangot. The lakes which form Sat Tal are – Sita Tal, Ram Tal, Laxman Tal, Sukh Tal, Purna Tal, Nal Damyanti Tal and Garud Tal.
Bhimtal – At a distance of just 24 km, Bhimtal is a popular place amongst tourists. It has a small island in the lake. Also, the place is linked to the epic Hindu mythology – Mahabharat – because of its name "Bhimtal".
Snow view point – Snow view point is 2270 meters above sea level, which gives you a wonderful landscape of the Himalayan mountains. The mountains are peeking from the blanket of snow. You can also visit a temple situated nearby.
Guano hills – This, again is a beautiful place to visit if you love a walk in nature. The Guano Hills has glorious oak trees, deodar trees and bamboo. While having a walk there, you can spot rare birds too.
It is an obvious thing that going on a holiday doesn't mean just resting in the best hotel in Pangot but to also exploring and experiencing new activities which you have never performed before. These activities will leave a major mark on your nostalgic memories. Here are some places to visit in Pangot and activities to do.
Camping – Camping in Pangot is nothing less than a scene from a novel. Cooking a hearty meal with your family and enjoying it in the serene surrounding of the Himalayan mountains is simply blissful.
Bird watching – You can visit Pangot Bird Sanctuary and encounter some rare birds there. While living in the city, we don't get time for bird watching and consider it a waste of time. But this little activity is like therapy for a peaceful mind.
Mountain biking and trekking – For the people who love adventure, you can do mountain biking and trekking. You have 2 trekking paths, where one leads to Naina Peak from Pangot and the other leads to Corbett National Park.
Walk in nature – A walk on a path filled with oak trees is nothing but a dream. It will give you an opportunity to introspect. By having a walk in nature, you will regain your energy and will be charged to again face your break-free life.
Transportation from Delhi to Pangot
The distance between Delhi to Pangot is roughly 308 km, making it a not-so-difficult holiday destination. But there must be some questions in your mind about, how to reach Pangot from Delhi. Or what are the options for transportation? For that, you don't need to worry as we have summarized every detail about it.
There are 3 ways to reach Pangot from Delhi – by air, by train and by road. All the routes are briefly explained below.
By air – The nearest airport to Pangot is in Pantnagar, which is 43 km away. To further cover your journey, you need to book a taxi – that is waiting outside the airport – which will charge around INR 1300.
By train – The railway station is 50 km away from Pangot, located in Kathgodam. You can travel by train to Kathgodam and book a shared taxi to reach Pangot. The taxi costs around INR 100 per person.
By road – Long gone are the unconstructed and damaged roads. Now, you can enjoy an amazing road trip by your own vehicle, taxi or bus (AC or non-AC). But the last stop for buses is Nainital and after that, you need to book a taxi.
Immediately plan a vacation in Pangot and add it to your go-to places. For you to enjoy a comfortable and luxurious homestay in Pangot, Pahadi Hotel is just a click away. Confirm your booking before someone else does.
Frequently Asked Questions