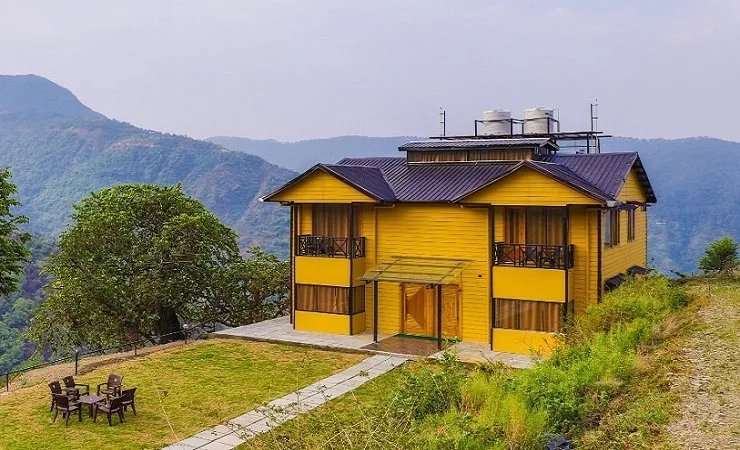 Want to visit Pangot but don't know about the best accommodation in Pangot? The Pahadi Kothi is a homestay like nowhere else. The villa is far away from any noisy and polluted city, sitting in the lap of nature amidst the lush green Himalayan flora. You can have a mesmerizing view of nature from the window of your villa.
Pahadi Kothi is a family-friendly resort, where you can spend some quality time as a joint family. The couples are also allowed to stay in this resort in Pangot. There is no age restriction for staying in the villa, everyone is welcome regardless of their age.
Let's dig more into the article to know why Pahadi Kothi is the best accommodation in Pangot and how your stay here will be memorable.
Pahadi Kothi is not just a place where you are staying for a vacation but a place where you will encounter new feelings and create new stories. This holiday villa in Pangot serves you the topmost things which you deserve. From the wonderful view of the mountains to the modern but cosy interior of this 3 BHK villa, you will experience a cheerful and luxurious stay in Pangot. There will be no hindrances faced during your stay in here.
But of course, before deciding on a resort for your stay, you need to know the services and benefits they offer. Learn more about the amenities provided by Pahadi Kothi and know why this is the best resort in Pangot.
Foremost thing, this villa has a private entrance as it is an independent house so, your precious moments will not be interrupted. It has 3 bedrooms with the warmth of the home, a living room that has a lounge area, a well-equipped kitchen, 3 clean bathrooms and 2 balconies for an exquisite view. This farmhouse has a wooden finish which emits a welcoming and snug feeling.
Living room – The living room is the first place that is noticed upon entering the villa, so it should be a tell-tale of the villa's vibe. Pahadi Kothi passed this check because of the beautiful décor. The sofa set paired with the glass table, having hanging lights from the ceiling and a T.V placed in the wall, serves the right vibe. It also has a dining and lounge area to chill and relax.
Bedroom – The villa consists of 3 bedrooms and all have a pleasant look and atmosphere. The fluffy mattress and pillows will provide perfect comfort after an adventurous day. The room is decorated with golden lamps and hanging lights to give an aesthetic feel. It consists of French windows to provide the glorious sight of mountains.
Kitchen – The kitchen is enough spacious to make a hearty meal. It has basic cooking materials, a refrigerator, a coffee maker, an induction, a stove, tableware and glasses. You can cook a delicious supper for your family with hygiene.
Apart from the hotel, there are a few other things which make a holiday more convenient. The hospitality Pahadi Kothi takes pride in are: –
Safety and wellness – The safety and wellness of our customers is the prime responsibility of Pahadi Kothi. For any mishap, fire extinguishers and first aid are 24×7 available in the villa.
Private parking – For the people travelling by their own vehicle, searching a hotel with parking is an issue. But here you don't have to worry about that as this is a villa with private parking in Pangot. It has a parking space for 4 cars and is free.
Health and hygiene – All the staff members are trained on hygiene guidelines and are fully vaccinated. The common areas are sanitized appropriately and have hand sanitisers.
Helpers – If you want to book villa with food then we are your option. A cook and a helper for dishwashing are allotted. They will be available from 8 AM to 10 PM for your help.
Other facilities – A sit-out area with furniture is provided for you to enjoy 'teatime' with your family in this hotel in Pangot. Vehicle rental service is offered and a connection to free Wi-Fi is also provided. Lastly, this is a pet-friendly hotel.
Things to do while staying in Pahadi Kothi
During your luxury homestay in Pahadi Kothi, there are ample activities you can do to enjoy yourself to the fullest. These things will promote the wellness of your mind and deepen your bond with the people you are visiting.
Meditation and yoga – You can rejuvenate your mind and body by doing meditation in this 5-star villa in Pangot. Revive yourself and feel energised at the end of the vacation.
Bird watching – You can enjoy your time while watching and observing different birds. There is a number of birds flying in the sky which you don't find in the city.
Appreciating the beauty of nature – There is no doubt that appreciating the picturesque view of the mountains and the clouds is the best thing you can do there. Sitting on a chair with your family, with a mug of coffee and feeling content, is simply blissful.
Cooking and camping – Cooking and camping together is a classic example of strengthening the bond with your family and friends. While performing these group activities old memories will be reminiscence and new memories will be made.
Quality time without interruption – Everyone wants to spend some quality time with their loved ones, away from their busy schedule. While staying in this luxurious 3 BHK villa in Pangot, you will have the precious moments you crave for.
Exploring hobbies – You can explore your hobbies like writing and painting. Being surrounded by such a beautiful nature, one will have ideas bombarding in their brain and it will broaden their horizons.
Places to visit near Pangot
For your explorer and adventurous self, there are many activities and tourist attractions to excite your holiday. Check the list of places where you can visit, to never bore yourself.
Bhimtal – It is around 24 km away from Pangot where Bhimtal Lake is a famous attraction for tourists. The lake also has a small island in the middle. The origin of the name "Bhimtal" is associated with the epic Hindu mythology – of Mahabharat.
Nainital – At a distance of just 15 km, it is a popular place to visit from Pangot. Here, people mostly visit to see Naini lake, Naina Devi temple and shop on Mall Road.
Guano hills – For nature lovers who love to walk Guano hills is perfect. The path covered with bamboo, thick oak and deodar trees, is simply splendid. This also gives you a chance for spotting some rare birds.
Snow view point – See the unbelievable image of Himalayan mountains covered in the blanket of snow, from the altitude of 2270 meters above sea level. A small temple is also located nearby.
Sat Tal – At a distance of 24 km, Sat Tal is formed by 7 interconnected lakes and is surrounded by beautiful pine and oak trees. The names of the 7 lakes are as follows – Ram Tal, Sita Tal, Laxman Tal, Purna Tal, Garud Tal, Sukh Tal, and Nal Damyanti Tal.
How to reach Pangot from Delhi
Finding an escape from Delhi's busy life and travelling to Pangot for a short vacation is a very refreshing idea. The distance between both places is around 308 km. Anyone who wants to visit Pangot can choose their transportation amongst 3 options – train, road or air.
By train – The nearest railway station to Pangot is Kathgodam, which is 50 km away. You can travel from Delhi to Kathgodam by train and can cover the further journey to Pangot by share taxi. The taxi charges may be around INR 100 per person.
By road – The journey from Delhi to Pangot by road is hassle-free as the road is well constructed and connected. You can drive your own vehicle or choose an AC/ non-AC bus. The buses run till Nainital only so, you must hire a taxi till Pangot.
By air – The closest airport to Pangot is 43 km away in Pantnagar. A taxi can be booked from the airport for approximately INR 1,300 to reach your destination.
A holiday is not planned frequently so when you have one it should be the finest. There must not be any 'ifs' and 'buts' that will leave any remorse. Give yourself a chance to experience the best and visit this amazing farmhouse in Pangot. Here, you will get to know the real meaning of a peaceful and serene mind. We promise you will not regret this stay and achieve peak happiness.
Frequently Asked Questions