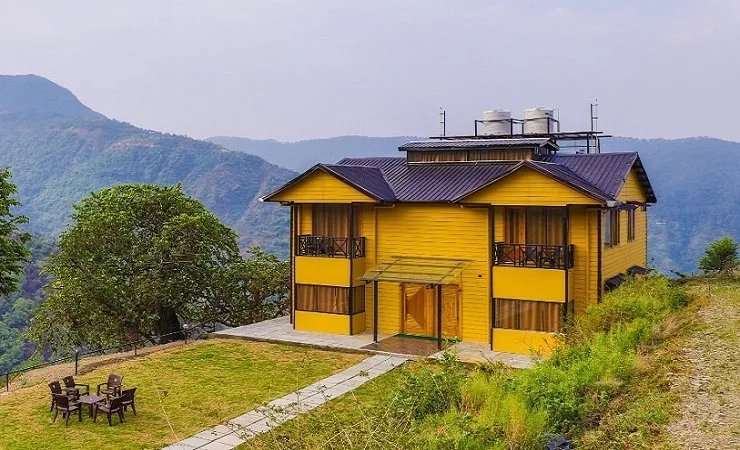 Do you know that Pahadi Kothi is the best resort in Pangot? NO? It is okay, we will tell you about this classy but cosy resort which everyone loves to stay in. This resort is built amidst the greenery away from the irritating car honks and hazardous pollution. While staying in here you will be welcomed by the clouds, mountains, birds, calmness, gentle breeze and fresh air.
You can rent this best resort in Pangot for a family trip or a honeymoon. We are considerate of all our customers and treat them with equal love and affection. Living in Pahadi Kothi will give you the best ever experience.
In Pahadi Kothi, you won't face any problems as we have a well-trained staff who will be at your service. They are all experts in their work and are trustworthy. Keeping the ongoing pandemic situation in mind, we have ensured that everybody is vaccinated and strictly follows the covid rules.
About Pahadi Kothi- Best Resort in Pangot
Pahadi Kothi is a resort near Nainital which offers you all the best services and amenities, you look out for in a homestay. This is a 3 BHK resort in Pangot, with great hospitality.
Living room – The living room is beautifully decorated with a sofa set and a centre table. The room is adorned with golden lights and has a television on the wall. It is quite spacious and is attached to the lounge and dining area.
Kitchen – The kitchen is ready to use as it contains all the essentials for making the meal. It has a refrigerator, an induction, cooking basics, a coffee maker, a stove, tableware and glasses.
Bedroom – This luxury resort in Pangot has 3bedroom and all have an outdoor view. It has a double bed and a couch paired with a table. The room has dim lights to enjoy the night view from the French window.
Balcony – Pahadi Kothi offers 2 balconies that offer wonderful mountain scenery. You can sit with your family there and breathe in the fresh air of Pangot.
Apart from this elegant resort, we offer services like Wi-Fi, outdoor furniture, vehicle rental services, a dishwashing helper, a cook, laundry services, wheelchair accessibility, sanitized rooms, fire extinguisher and first aid. Also, this is a resort with private parking for 4 vehicles and is pet friendly.
Book Your Stay Here: Why Pahadi Kothi Is
Pangot is a very calm and hidden destination in Uttarakhand, where you can spend time without any worrying. But there are a few places to visit near Pangot which will make your holiday a bit more memorable. They are in close proximity to Pangot and can be reached within an hour time.
Snow view point – Covered with white snow, the Himalayas simply look phenomenal from a Snow viewpoint. Many people come here to see the mesmerizing view and take a small walk. You can also go to the small temple which is located nearby.
Guano hills – This place is for all nature lovers who love to walk in greenery. The path is encircled with healthy bamboo, thick oak and deodar trees. Don't miss to carry your camera as you most likely will find some rare birds.
Bhimtal – 45-60 minutes of drive away, Bhimtal is amongst the famous places to visit near Pangot. The name is derived from 'Bhima', a character from the epic Hindu mythology "Mahabharat". There is a small island in the middle of the lake.
Sat Tal – Sat Tal is 24 km away from Pangot. It is formed because of 7 interconnected freshwater lakes. Ram Tal, Sita Tal, Laxman Tal, Purna Tal, Garud Tal, Nal Damyanti Tal and Sukh Tal are the names of the 7 lakes. The area is covered with gorgeous oak and pine trees.
Nainital – Being at a distance of only 15 km, Nainital is a popular tourist attraction. Naini lake, Naina Devi Temple and Mall Road are often crowded with tourists.
How to reach Pangot from Delhi
You can anytime plan a trip to Pangot as Delhi is not much far away. The distance between Delhi and Pangot is roughly 308 km. You have the option of 3 transportations – by air, road and train. Check out below how you can reach Pangot using the different routes.
By train – The nearest railway station to Pangot is 50 km away, located in Kathgodam. You can book a ticket from Delhi to Kathgodam and continue the further journey by a shared taxi. The taxis are waiting outside the station and cost around INR 100 per person.
By air – 2.5 hours drive away from Pangot, the closest airport is in Pantnagar. To reach your destination, you have to book a taxi which may cost you approximately INR 1300. Every week 6 flights are scheduled to fly from Delhi.
By road – The road is well constructed. You can take your own vehicle or travel by bus (AC or non-AC). If travelling by bus, then it has Nainital as its last destination. To reach Pangot, you need to rent a taxi from Nainital.
Having a vacation is a must needed thing, especially when everyone is tired from living inside the four walls. During this trip, you will regain your energy and feel a peaceful mind. The thoughts creating havoc in your mind will come to rest. Pack your bags and book the best resort in Pangot now.
Frequently Asked Questions